$49 Drain Clearing Service: I Don't Think So!
William Demirdonder
Apr 08, 2021
No comments
15-minute read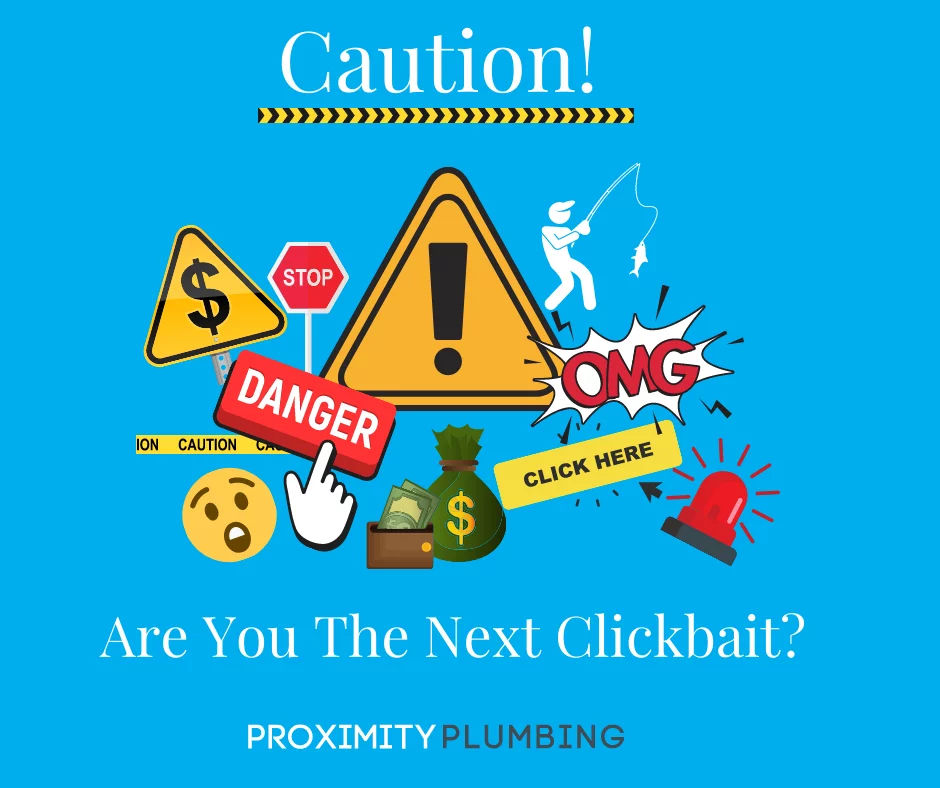 In Plumbing, Like Life, You Get What You Pay For.
So if a quote sounds too good to be true, chances are it probably is!
Let's talk about the big old elephant in the room: cheap as chips service providers, tradies, especially Plumbers!
Now, this is our speciality: professional plumbing services and we've worked damn hard to create a quality brand with the best team in Sydney to handle any and all plumbing jobs, SO it gets our goat when we see a "cowboy" plumber advertising $49 drain cleaning. Sales gimmicks like this go against our hard "NO BS Policy" at Proximity Plumbing.
Can You Clear A Drain For $49?
Newsflash: This is complete BS.

You will end up paying A LOT more than $49 for a drain-cleaning service when you choose a provider offering cheap services like this. What's worse is that you may need a secondary plumbing team to come and fix the damage caused by the first, cheaper, not as an experienced plumber.
It's a simple (and unfortunately somewhat effective) marketing tactic used to reel in unsuspecting new customers who are none the wiser, not exactly sure what they are paying for. Once your drain is cleared (maybe completely cleared, maybe not) you'll most likely be slapped with a bigger bill. Call out fees, travel fees, hourly fees, overtime fees, machine and equipment feed – you name it – you'll pay for it.
Let's break it down: If you live in a heavily populated area like Paddington, Queens Park or Centennial Park, chances are you have had some drainage trouble at some point. This is due to the surrounding leafy green trees we all love in Sydney.

Realistically, do you think a plumber will come to your home and clear your blocked sewer line [that is full of overgrown tree roots which have infiltrated your pipes and are wreaking havoc] for only $49?
Um, nope!

But that's what the ad says right? And you'd like to think that a professional will stick to their quoted price? Well, the proof is in the pudding.

Next time you see one of these ads, call them up, ask them these questions, then do an estimate based on the information they've shared.
Why am I telling you this?


For two reasons:
No plumber can honestly quote you a price over the phone or internet to unblock your drain if they have not 'had eyes' on the situation. They will have no idea of your property's layout, pipe and drainage system or past plumbing issues. It's a bit like a doctor going in blind to an operation they have no idea what the issue is or how long it will take but you want to know how much it will cost you before they start. It's one of the reasons we offer a $0 call out fee to inspect your home's plumbing issue.

I'm telling you this because I'm passionate about raising awareness in our community for these "cowboy" plumbers and letting you know there are other, more professional and safe options available. I would love to see a time where our industry and its professionals are not known as rip off merchants, but professional and well-respected tradespeople. That's what we're all about at Proximity Plumbing.

Sales gimmicks like this go against our hard "NO BS Policy" at Proximity Plumbing. We aim to provide clear and easy-to-understand information and quotes to all our customers. You won't be 'reeled in' with false advertising, you will be given a detailed quote based on our 'eyes on' quoting system.
What Does A $0 Call Out Fee Mean?
'$0 call-out fee' means that we DO NOT charge you to arrive at your door, between business hours (8 am to 5 pm, Monday to Friday). Before we start any work to help you with your plumbing issue, an upfront FIXED price will be discussed. This is so that you don't have any 'bill shock' at the end of your service and there are NO hidden costs.
Providing great service, quality workmanship, and expert advice to our customers is the top priority for our team at Proximity Plumbing. Once we are onsite, we will provide a quote for your plumbing, gas fitting, hot water, or blocked drain services. Whatever it is we're there to assist with. Often there is more than one way to tackle any issue, so we even go to the effort of providing more than one option for each service so YOU DECIDE what you'd like to do.
The Three Golden Rules of Call Out Fees.

When you're searching for a plumber to attend your property, keep in mind these "Three Golden Rules":
A truly professional, licenced plumber will give you a general breakdown of their costs but will not guarantee a price for your service UNTIL they have attended to your property and diagnosed the issue. With our clients, we like to have an 'eyes on' inspection and provide you with a thorough (yet easy to understand) quote.

The old saying "If it's too good to be true, then it probably is" sums it up – do your research! Have your eyes and ears open for any BS that you feel is too gimmicky and sales.

The sweet spot for costs involved with tradespeople is somewhere in between the 'too little' and 'too much.
Please, take time (even in an emergency) to do your research and find a truly local, professional plumber (who is licenced) and has plenty of community reviews.
What To Ask A Plumber About Call Out Fees.
How Much Is The Call-Out Fee And Is There A Minimum Charge For Time?


Your first and most important question! Be upfront and ask the tradesperson to clearly articulate their fee schedule before you ask anything else.

What Does Your Call-Out Fee Cover?


Some call out fees ONLY cover the cost for the tradesperson to arrive at your home, and nothing else. So ask the question about just what's included so you know what to expect.

Can I Please Get It In Writing?


Always request for your call out fee quote to be sent in writing to avoid any confusion.

Ask about the other expected fees.
Does the tradesperson charge per hour, or per job. Does your tradesperson have a fee schedule they'll provide you with? Now is the time to ask all the questions!
Do A Quick Check Of Your Plumber's Licence
Protect yourself and your investment by making sure you hire the right, licensed plumber for the job. Follow This link to check your preferred contractor.
Service NSW offers this link which will tell you about current, expired and cancelled licences under the name, licence number or ABN/ACN being searched. It is important to check the tradesperson engaged has a current licence to ensure they have the appropriate qualifications for the work you want to be done.
Furthermore, the link will provide information on whether Fair Trading has issued public warnings about the licensee, has finalised any disciplinary action against the licensee and whether the licence has been suspended or cancelled. So it's always a good idea to quickly spending five minutes before approving a quote from a local plumber near you.

When you phone a plumber to book them in, ask about the license and the license of any of the team who may be assisting or coming into your property. You want to make sure everyone working on your home is licensed and qualified!
Remember: The Cheapest Plumber Is Not Always The Best
Typically when you need a plumber and you search for "A Plumber Near Me" you will be inundated with "local" plumbers at bargain prices (back to our cowboy $49 ad). Again this is a marketing tactic to be wary of – most likely, these plumbers will charge expensive fees when they finish the job and you'll be hit with a lot of "extras". So take the time to call a few plumbers first and ask some key questions.
A good local plumber will come to your home and provide a free quote so you know the total cost of repairs before the work starts!
What If You Have A Plumbing Emergency – Will You Be Charged Extra?
Let's say you have a real plumbing emergency on your hands. You will most likely be panicking about how much this emergency is going to cost you!

Some plumbing emergencies occur at odd hours, on holidays and weekends, but you could save yourself an emergency call-out fee by assessing the situation and asking for advice.


Here are a few examples of true plumbing emergencies:
What To Do When You Need A Plumber
Call our team and let us help you!

Shameless plug, we know. Get it?
Seriously, we will schedule one of our professional, licensed plumbers to visit your residence and provide you with a $0 no-obligation quote based on your specific plumbing and drainage issue.

Our quotes are written in plain English, there is no industry jargon, we don't BS and we will talk you through it and make sure you understand exactly what you are paying for.

Book service now online, or call our friendly team on 0420 102 394.