Benefits Of Routine Plumbing Maintenance
William Demirdonder
Dec 28, 2020
No comments
15-minute read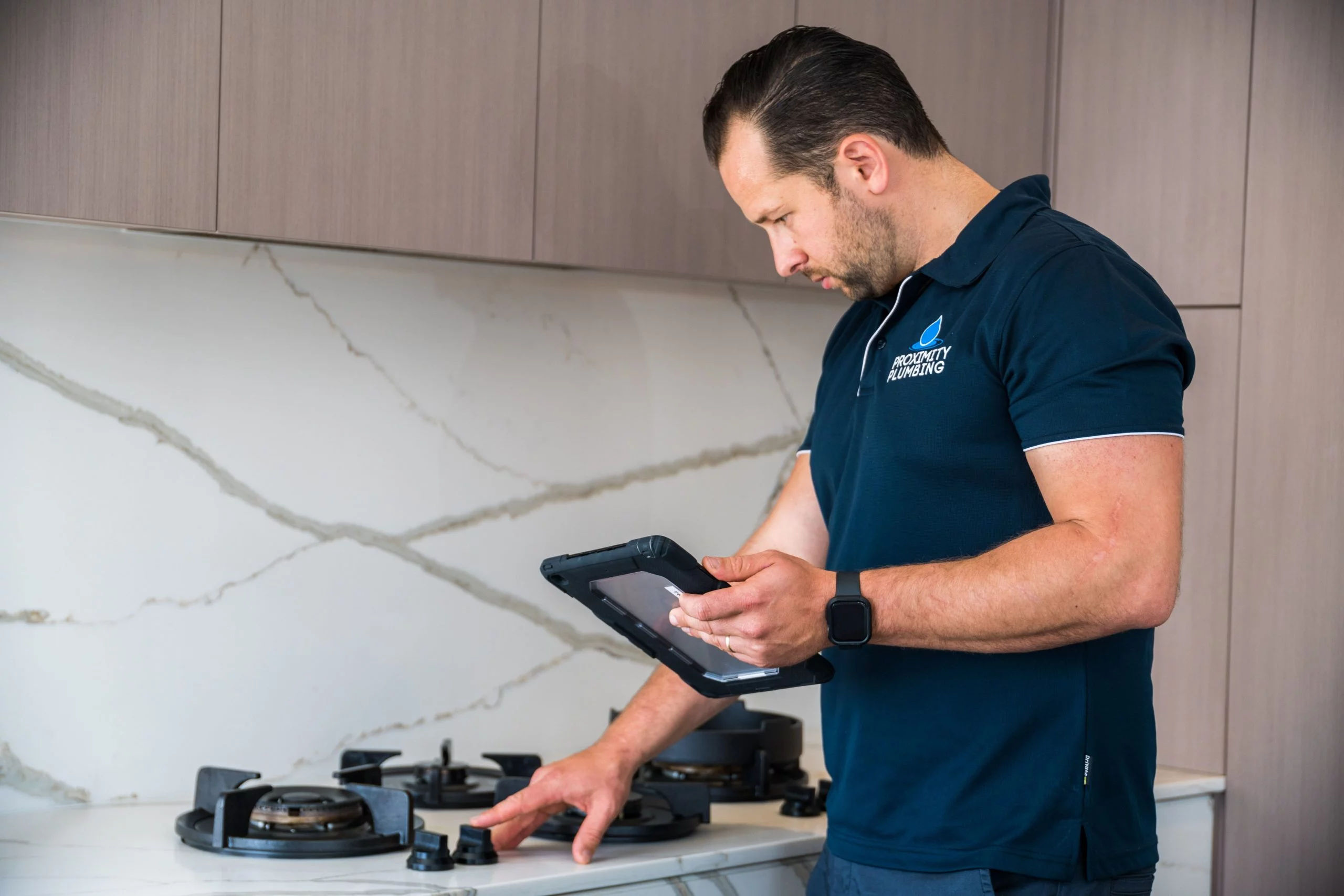 FOUR REASONS TO BOOK A PLUMBING MAINTENANCE APPOINTMENT NOW!
We've all been in a situation where we've thought "If I'd just checked that earlier, I wouldn't have this issue!". I bet the local Dentist hears it a lot and as your local Eastern Suburbs plumber, we hear it a lot too.
By routinely checking your plumbing system is working to the best possible standard, not only are you being incredibly proactive in preventing any major plumbing emergencies, but you are also saving big bucks and protecting your asset.
During a plumbing maintenance appointment, our Proximity Plumbing team will check things like all faucets and fixtures, water pressure, any leaks, gutters, and irrigation, blocked drains, tap pressure, and hot water systems.
You will have peace of mind that any issues will be discovered, assessed, and fixed before you're standing in the middle of a flooded kitchen at 5:00 pm on a Friday!
Here are a few reasons why routine plumbing maintenance should be on your radar!
Skip The Emergency
Investing in regular plumbing maintenance means you are decreasing the need for emergency plumbing (which can be costly and stressful). With regular check-ups of your entire plumbing system issues like blocked drains, blocked gutters, poor water pressure, roof leaks, and leaky taps will be assessed and dealt with by a professional plumber and you are less likely to see an emergency situation arise!
Save Some Dollars
A well-maintained plumbing system will create less water wastage. Do you know how much water a leaky tap wastes? It's a lot! And all that water down the drain means dollars (down the drain) for you.
By investing in regular plumbing maintenance, you are doing the best thing you can to save money and prevent larger, unnecessary costs, and disaster situations down the track.
Prevent Health Issues
Regular plumbing maintenance checks can detect nasties like mold and mildew creeping in your pipes and drains. Left untreated these can cause a lot of health issues for you and your family.
Protect Your Asset
Time to sell and move home? With regular plumbing maintenance, you are ensuring the plumbing system is in excellent working condition when you choose to sell. So, you'll have no expensive issues to fix pre-sale and your ongoing dedication to your home will be reflected in your sale price. Horray!
Increase The Lifespan Of Your Plumbing
When plumbing issues are left unattended or systems are not maintained, their efficiency and quality decrease, shortening their lifespan and causing long term issues. For example, if gutters are not regularly cleaned and maintained, long term damage can be done to the structure, decreasing its efficiency and as each day goes by, increasing the repair costs.
Repair costs can be the biggest killer and it's extremely frustrating when you realized the issue didn't have to occur and instead, you could be putting that money towards a holiday in Europe.
Reduce Costs
At the time, routine maintenance can feel like an unnecessary cost that adds up over time. However, these costs are minuscule compared to the costs to repair a large problem such as roof leaks or a blocked drain bursting.
That's why routine maintenance is so valuable as it ensures those big, expensive, disaster situations don't occur. Faulty and inefficient plumbingis also wasting unnecessary money over time, so we believe you are better off putting your money into maintenance instead of down the drain.
Put simply, being proactive is cheaper than being reactive.
Prevent Emergencies
Routine maintenance is vital in reducing the likelihood of plumbing emergencies occurring at your property. Plumbing emergencies usually occur when there is a fault in your plumbing system. In some cases, these faults can be prevented through routine maintenance.
Routine plumbing maintenance is something we take seriously at Proximity Plumbing. Why? Because it can save you so much heartache, stress, and money in the long run. Plus, we really like to know all our client's pipes are in perfect working condition!
To book a plumbing maintenance appointment with us, call us today at 0420 102 394 for a free quote. Plus, we guarantee to be on-site within the eastern suburbs in 30 minutes.