Water Damage Statistics 2021
William Demirdonder
Oct 27, 2021
No comments
15-minute read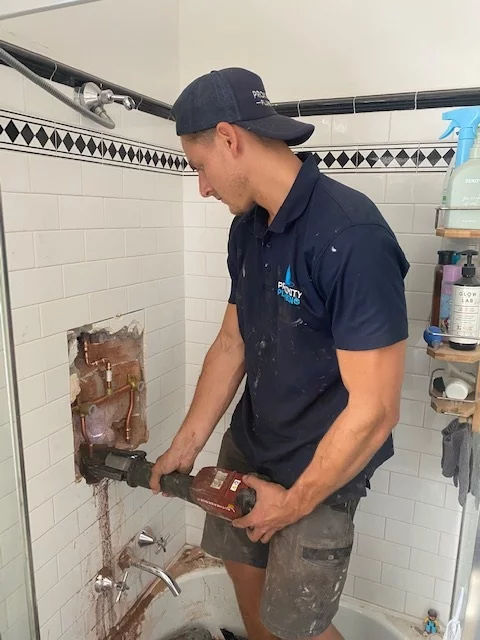 If your property is experiencing damage from water then we urge you to act fast. Water damage can quickly become a serious foundational and structural issue if left unchecked. So please contact your local flood repair and restoration experts, local plumber or local water damage specialist now.
In this article we'll cover:
The Top Causes Of Water Damage
Incidents Of Water Damage To Property Is Rising
Is Your Water Damage Covered By Insurance?
Most Homeowners Underestimate The Damage From Water Damage
Commercial Water Damage Claims Also On The Rise
How To Find Help In Repairing Water Damage
Prevention Is Better Than Cure
The Top Causes Of Water Damage
The most common cause of water damage in properties across Australia comes from failing, ageing or broken plumbing pipes and fixtures. The root cause of most water damage is a lack of general plumbing maintenance.
Recently in Australia, insurer QBE conducted a study and found that:
Burst or blocked pipes is the leading cause of water damage, making up 46% of related claims, QBE said. Damaged roofs and old or worn-out plumbing each accounted for 27.2%, followed by overflowing baths, sinks and showers (13.4%), clogged drains (13.4%) and flexi hoses (8.2%).
QBE says data from 2018-2021 shows 24% of all home insurance claims relate to water damage incidents, and the average claim for a water damage incident is about $5000 and more than $500,000 for severe losses.
Water damage incidents are also reported from leaks or flaws in:
Roofs
Toilets
Sprinklers
Water heaters
HVAC systems
Overflowing gutters
Leaking air conditioning units
Weather-related incidents
Unfortunately, most water damage events can be avoided when homeowners are on top of their monthly and quarterly plumbing maintenance. So take action today, carry out your necessary plumbing repairs and inspections, and if you're not sure where to start, then contact us.
Incidents Of Water Damage To Property Is Rising
Statistically, water damage is significantly more likely to occur than theft, fire and vandalism, however, it's something that homeowners regularly overlook and under-prepare for.
Due to lifestyle changes, more people spending significantly more time at home and putting pressure on already aging piping infrastructure, water damage incidents are on the rise.
There has also been a decline in general home maintenance with people's schedules busier than ever.
Water damage claims are also more expensive than in past years:
Six-figure water damage claims are more frequent than in past years, leaving many homeowners underinsured
Water damage claims exceeding $500,000 have doubled since 2015
Claims over $1 million have tripled since 2015
*** This data is taken from the USA.
Is Your Water Damage Covered By Insurance?
If you're without insurance, water damage from a burst flexi hose or a burst pipe or an ongoing leak could set you back tens of thousands of dollars.
Typically, in Australia, if you have home building and contents insurance, your policy will usually cover you. It's best to check with your insurer today and ask them about whether you're covered for damage caused by a sudden escape of water from a burst flexi hose. You can also check your policy documents and the terms of your current cover.
For insurers, they will see tens of thousands of water damage claims lodged yearly. Making sure you inspect your home for potential leaks and inspect your flexi hoses (or have a professional plumber do it) is key.
If you are not insured then the damage can be pretty devastating. You will be out of pocket for the water damage clean up, repair and replacement of your belongings. If the water event has been significant, you could end up needing to find temporary accommodation elsewhere whilst your property is repaired – but that is the worst-case scenario.
Most Homeowners Underestimate The Damage
It's easy to underestimate the damage that can (very quickly) be inflicted and the cost of restoring your property from water damage.
In fact, one study found that on average, homeowners thought appliance or plumbing leaks result in less than $5,000 in damage when the actual average is $10,849. (Taken from an American study).
Small leaks left undetected for months could see an entire property's ceiling replaced or a foundation issue.
Constant water leaks through internal piping can see walls, cupboards and bathrooms in serious need of mould exterminators and potentially need partial or full renovations to remove mould.
A sudden burst Flexi Hose can fill a house with a swimming pool amount of water in the time you're at work. Take a look at this video to show the sudden and serious impact that a body of water can have on a property:
Commercial Water Damage Claims Also On The Rise
It's not only homeowners that are experiencing more incidents of water damage related events. Business owners and commercial property owners are facing more regular water damage incidents.
The top contributors to plumbing problems in commercial properties include:
Burst pipes (from an increase in water pressure)
Blocked drains and pipes
Failing plumbing due to poor installation or maintenance
Corroding or aging pipes, often caused by lower quality pipes or irregular plumbing maintenance
The hospitality industry is especially vulnerable to plumbing related issues like overflowing toilets, blocked drains, blocked toilets, blocked stormwater drains and broken or leaking appliances. All these plumbing problems create millions of dollars in damages each year.
No matter what the cause of the water damage, when a business is interrupted, suspended or shut down from a water related incident it can have a severe impact on operating schedules, create distrust with your customers and affect the livelihood of any staff members.
How To Find Help
Firstly, know your local emergency plumber. Understand how they will investigate water damage and provide solutions for you. Ask questions about timings, emergency call out fees and how they quote and charge for repairing a water damaged property. Understand the types of methods and equipment they use when repairing water damage.
With most things in plumbing, prevention is better than cure. So make sure you are routinely carrying out the necessary inspections on your property so you can help to diagnose any potential issues before they arise. One thing in particular that accounts for many insurance claims across Australia are burst Flexi hoses.
You can read more about that here.
Prevention Is Better Than Cure
Nearly 30% of homeowners don't know what home maintenance tasks can prevent water damage and 16% are not aware that such preventive actions will help. (QBE Study)
If you make sure that you are carrying out the necessary and needed plumbing maintenance checks needed for your property you will most likely come across small issues before they become massive issues resulting in water damage or flood incidents.
If you are unsure about what types of checks you can make to your property, book in a professional plumber (like us) to carry them out for you!