What Is Pipe Relining?
William Demirdonder
Aug 26, 2020
No comments
15-minute read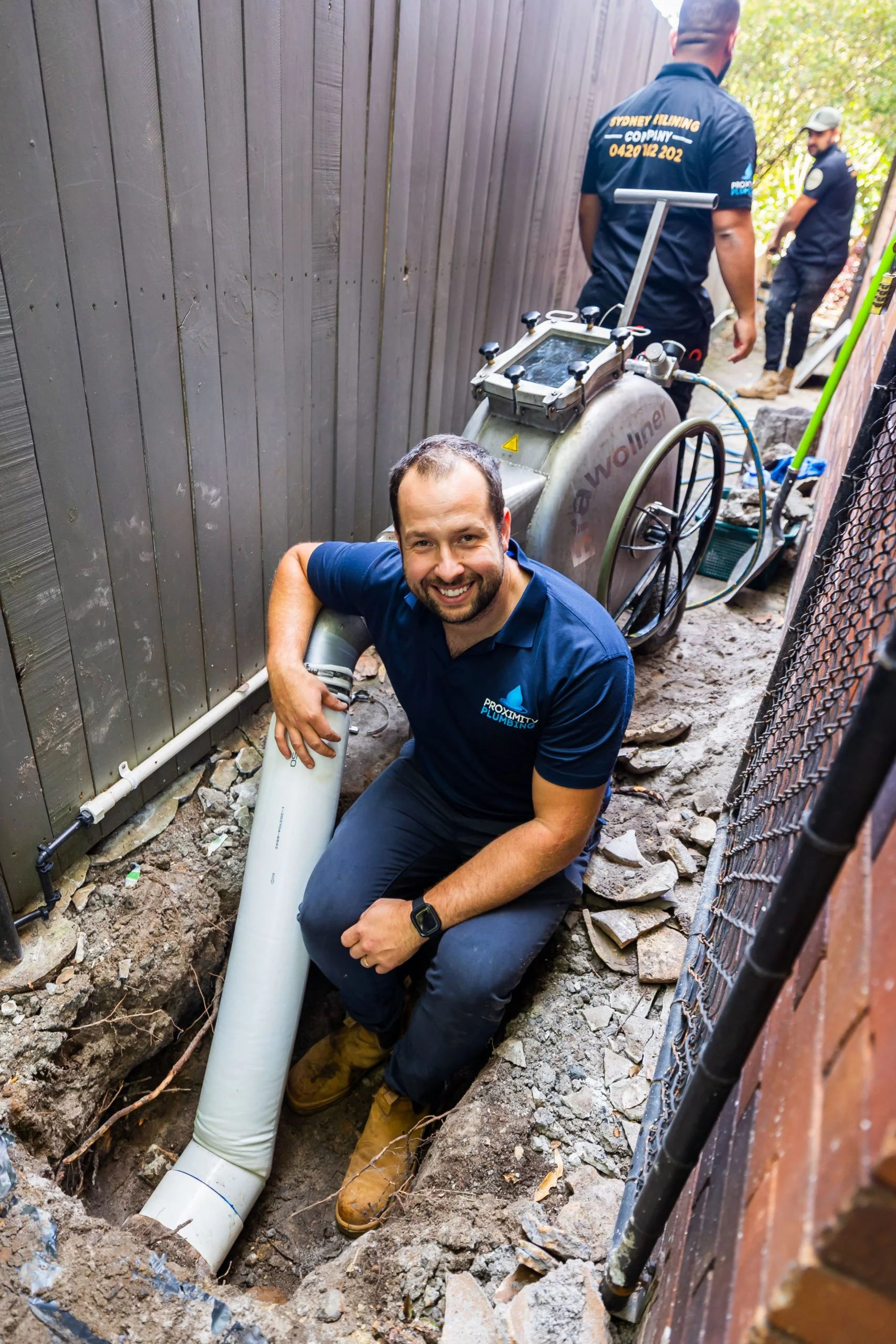 So, What Is Pipe Relining?
Heard Of Sydney Pipe Relining But Want To Know More?
Gone are the days of cutting up, digging up and destroying your backyard and existing pipework to replace your home's broken pipe or sewage system. Thanks to pipe relining technology, your home's urgent pipe repairs can be done with less fuss, stress, and destruction than ever before.
The great news is Proximity Plumbing is the eastern suburb's expert pipe relining plumbing team! We can offer a free pipe inspection, discuss your options, and show you what pipe relining is all about.
Pipe relining, also known as Cured-In-Place Pipelining (CIPP) simply creates a pipe within the existing pipe. This cured-in-place pipe is a trenchless rehabilitation method used to repair existing pipelines. Which is a jointless, seamless pipelining within an existing pipe.
At Proximity Plumbing, we use a two-part epoxy that's pulled through the pipe and expanded to leave a hard fibreglass shell that can't be penetrated by roots. These new pipe lining systems are up to 4 times stronger than a new PVC pipe and are perfect for sewer pipe repair, especially for earthenware pipework.
Pipe relining is the best solution for repairing difficult and damaged pipes. Known as a "no-dig" solution and considerably less impactful than any other pipe repair options. It's quiet, quick, and clean, which is why it's becoming the go-to service for our eastern suburbs clients who are looking for a long term solution that won't disrupt the home or garden.
Is There Ever A Time When A Pipe Cannot Be Relined?
The only disadvantage to pipe relining is that it is not always possible. If pipes have been crushed by tree roots or the pipework has dislodged severely, relining will only follow the contours of the existing drain and thus not be possible. Furthermore, if your pipework has backfall and is holding water relining will only mimic the problem and prevent it from getting worse.,
In some cases, the drain cannot be relined, this is generally when the pipe has completely collapsed. If this is the case there is no option except to dig up that section of pipework. If your plumber shows you a video of your pipe completely broken looking like it may collapse at any second, you should take this seriously.
Proximity Plumbing often recommends relining old clay pipes commonly attached to older homes even if blockages haven't recently occurred as these preventive measures can ultimately save thousands of dollars in unforeseeable problems in the future. Lastly, it will future proof your home and prevent tree roots from finding their way in your drain and causing headaches.
Here's an example of one of our latest projects we did in Bellevue hill, the client had large dislodgement which was fixed by our team who carried out no digging pipe relining.
What Are The Advantages Of Pipe Relining?
No digging or excavation required.
Faster and more affordable than open construction.
4 x stronger than a standard PVC pipe
Our piping has a 50-year life expectancy.
Works for sewer pipe repair as well as stormwater, earthenware, copper asbestos, PVC, and cast-iron pipes.
Guaranteed for 35 years
Keeps out all tree roots.
Reduced impact on the environment.
When Is Pipe Relining More Beneficial Than Pipe Replacement?
There is a common misconception that pipe relining is a temporary fix compared to permanent fixes offered by pipe replacement. Having pipes relined is a permanent fix, just as replacing them is. There are, however, lots of variables when it comes to finding a solution:
Pipe relining should be the choice when the cost of excavating certain sections for drain and sewer pipes is too expensive.
Pipe relining makes more sense when the time is limited. Excavating, pulling out the old piping and replacing everything takes a considerable amount of time.
Pipe relining should be the choice where accessing pipes would require complex work; pipes laid under tiles, concrete floors and etc.
Demolitions and excavations in rooms or in cramped environments, in addition to delaying the intervention times, often involve the possibility of damaging other parts of the property.
The intervention illustrated is respectful of the environment, and in fact, does not require materials to be disposed of. Which, given the high costs of disposal in a landfill, represents a further advantage economically.
From a strictly economic point of view, pipe relining is in many situations more convenient than the traditional method of replacement, taking into account the reduction of execution times and the elimination of all the inconveniences related to this.
what is pipe relining proximity plumbing
How Much Does Pipe Relining Cost?
If you're asking, "Is Pipe Relining Worth It?" it's important to factor the costs of digging vs the cost of completing pipe relining. On average, pipe relining costs will vary between $450 – $1000 per metre. You're probably wondering why the cost of this procedure varies and this is a very common but good question As far as the costs go, there isn't a definitive answer.
The price will depend on a variety of factors, including:
Size Of The Pipe
Location Of The Pipe
Accessibility Of The Pipe
The Condition Of The Pipe
The Diameter Of The Pipe (Smaller Diameter Pipes Are More Expensive)
What Can Be Repaired With Pipe Relining?
Asbestos & Cement
PVC pipes
Cast iron & copper pipes
Earthenware
Pool pipes
Pressure pipes
Stormwater & sewer pipes
Downpipes
About Brawoliner
Brawoliner is an innovative German technology created for repairing pipes without the need for excavation. More importantly unlike many of the other liners, the Brawoliner® products are an Australian Watermark approved product ensuring the warranty advertised is backed legally.
Brawoliner continues to be manufactured strictly in Germany and exported to Australia for the Australian market to only licensed and certified Brawoliner installers. It also has elastic qualities that enable it to maintain its resilience throughout multiple bends and tapers.
The Four Most Common Methods Of Pipe Relining Are:
Cured In Place Pipe (Cipp) Lining
Fold And Form Lining
Slip Lining
Spray Lining
CIPP is the most common method of residential pipe rehabilitation in Australia and New Zealand and there are three installation methods:
The Pull In Place Method
The Inversion Method
The Spray Lining Method
Why Choose Proximity Plumbing For Pipe Relining?
Proximity Plumbing has a proven track record of growth and success through word of mouth and quality of service. We proudly boast over 300 Five star reviews on Google!
We are a family-run, Eastern Suburbs business, and we're true locals. We live, breathe and love the east. So, we know eastern suburbs pipework like no other company.
Above anything else, we value world-class customer service, and we aim to serve our local community whilst improving the standards and reputation of our industry. Contact us today for your no-obligation pipe relining quote. You can click here or call our friendly team on 0420 102 394.