6 Plumbing Emergencies That Need A Professional Plumber ASAP.
William Demirdonder
Apr 29, 2022
No comments
15-minute read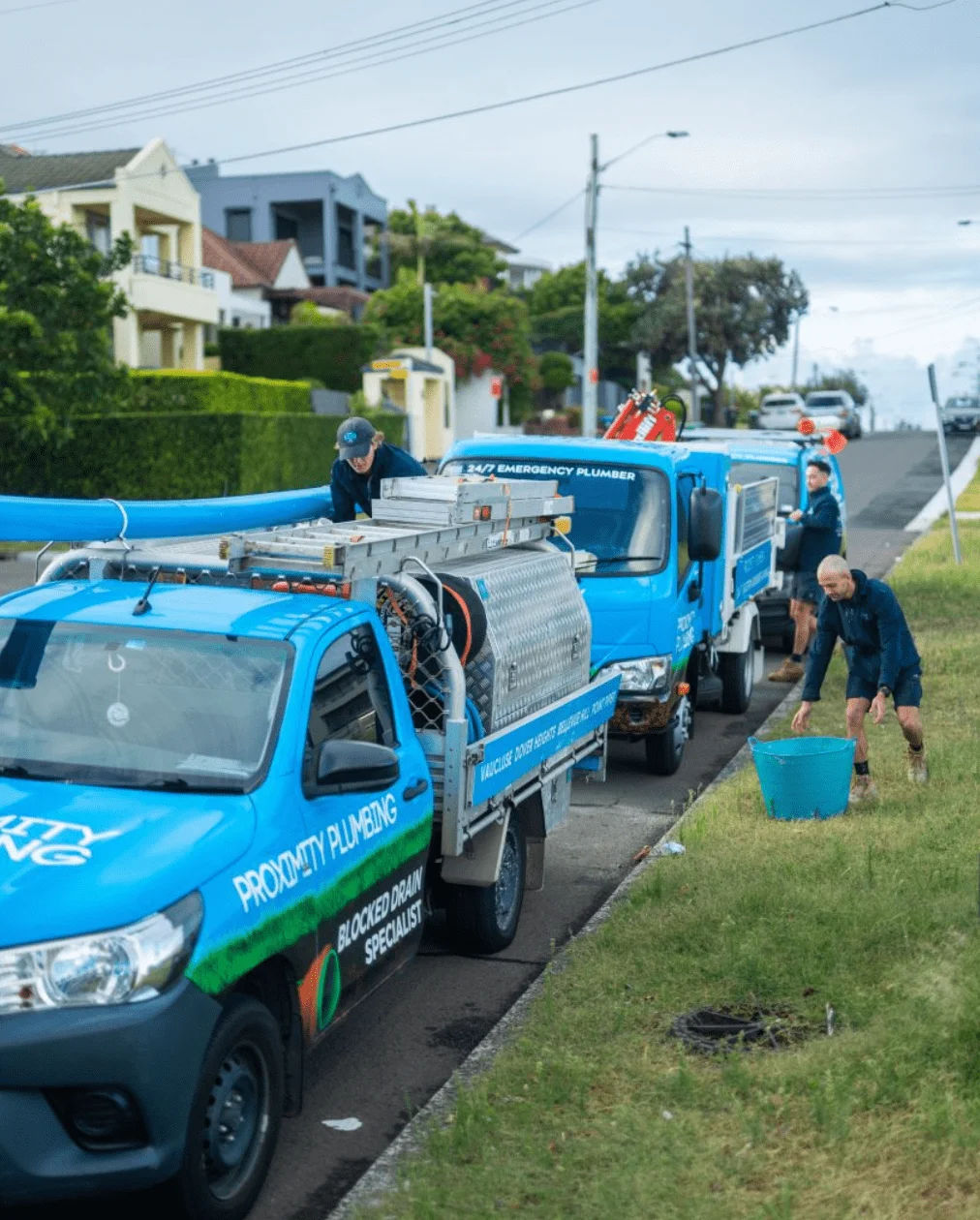 Let's face it, not all plumbing issues are 'emergencies'. Some minor problems can wait a day or three until your trusty plumber is able to attend to your property. However, some plumbing issues are downright urgent and you need a pro eye to inspect, report and repair ASAP.
An exceptional, reliable plumbing team (like ours at Proximity Plumbing) will do anything to assist you when you are in a jam, no matter what time or day of the week (we have plumbers on standby 24/7, 365 days a year).
An urgent plumbing emergency can include any of the following:
Water needs to be restored to the property.

Measures need to take place to prevent water damage to the property.

A blocked drain needs to be cleared.

A waste connection needs to be restored to protect public health.
It is an owner's responsibility to call an emergency plumber if they feel they are affected by any of the above points.
So, knowing when to call an emergency plumber and when to call a routine plumber is very important.
Here are a few examples of true plumbing emergencies:
A blocked sewer drain or broken sewer pipe

A blocked stormwater drain

A blocked toilet

A gas leak

No water at all

No hot water

A burst water pipe

A consistent, substantial leak from a roof or ceiling
When you are truly in a plumbing emergency it's important that you have your emergency plumber contact details close at hand, and you have steps in place to combat the emergency to make certain there is as little damage to your property as possible.
Plumbing Emergencies For Which You'll Definitely Need A Plumber On Speed Dial
1. A Badly Blocked Drain
If you have a drain that is notoriously slow draining or quite noisy/clunky as it drains then chances are, at some point it will become badly blocked and need an expert to clear it out.
Think about all the *stuff* that goes down your bathtub or shower drain. Soap, shampoo, conditioner, hair! The shower drain is a drain that is commonly clogged with debris from the bathroom.
A block in your kitchen sink drain usually occurs at the trap. Things like: food scraps, fats and oils, coffee grounds, vegetable cut-offs, cooking twine and string are big offenders. The only thing that needs to go down the kitchen sink drain is water and suds from washing the dishes and your hands.
The damage here is that every drain leads to your main drain, and when the debris from the bathroom gets caught up in the debris from the kitchen drain and so on, it accumulates and can create a large, unmoveable blockage that will need an experienced plumber to clear.

A blocked drain can be a sign your Main Drain is clogged. If your main drain is clogged, ANYTHING you flush down a drain will end up getting stuck, and not able to pass through the pipes. When this happens, your water, waste and any other material getting passed down the drain will start to come back up through the drains.
Signs of a main sewer line blockage:
Multiple plumbing fixtures blocking up at the same time

The overflow relief gully outside of your house is overflowing with water

Cracks in concrete with water seepage

Overflowing grates, floor waste or gutters

Distinctive sewage smells

Unusually soggy garden spots or areas of super growth
2. A Blocked And Overflowing Toilet
Is your toilet blocked? In such a scenario, excess water can overflow easily whenever you flush. It could lead to significant unsanitary problems and water damage to other areas of your home.
Blocked toilets require immediate attention. It's not unusual for foreign items (that don't belong in a drain) for example; "flushable" wipes, sanitary pads, nappies, kitty litter, make up pads to get flushed.
When this happens there is a high likelihood they will cause a blockage in the trap that needs an expert to unclog.

A blocked toilet can also occur from an obstruction further 'along the line'. Usually, this is a fatberg that has accumulated over time from oils, fats and materials like 'flushable' wipes getting caught together and clumping up, creating one large mass of material. For more information on fatberg's check out this video for a short explanation:
A blocked drain from an obstruction can also be caused by an infiltration of aggressive tree roots, which use tiny cracks in your sewer line to grow in the nutrient-rich water and grow through your pipes.
If your toilet is slow to flush, half flushes or you see waste coming back up through the toilet then you should call a plumber. Any signs that the toilet is working harder than it should be to eliminate waste water is a sign that you need a plumber.
You do not want to end up with a situation where waste and water is coming back up through the toilet and flooding the bathroom and potentially other areas in the house – this is a major health hazard and you will need an expert plumber and potentially cleaning services to take care of this issue.
One of the best ways to avoid an overflowing or blocked toilet is to not flush products other than toilet paper down your toilet.
If you have a blocked toilet or an overflowing toilet, please reach out to a professional emergency plumber in Sydney (or call our team at Proximity Plumbing now on 0420 102 394).
3. Burst Pipes or Burst Flexi Hoses
Did you know that damaged, over-pressured or perished flexi hoses are a major cause of water damage in Australian homes?
If a flexi hose bursts and water spurts out from the hose, it can cause hundreds if not thousands of dollars worth of damage in minutes. To give you some perspective, if a flexi hose bursts while you're out of the home and it's left to run for hours, your entire home will be flooded with hundreds of litres of water when you return.
If you live in a muti storey home, and a flexi hose bursts on the second or third level bathroom, your entire home could be *swimming* in a matter of hours. If you live in an apartment block, your burst flexi hose could seriously damage your apartment, your neighbours, even the entire building if left undetected for a period of time.

You must inspect all the flexi hoses in your apartment or home regularly to ensure they're in top working condition. When you're inspecting, you're looking for things like kinks in the stainless steel binding, rust, ANY small leaks and any small pools of water in or around the area of the flexi hose.
In Australia, most flexi hoses which have been professionally installed will have an expiry tag on them. If you check your flexi hoses today and the expiry is up or there is no expiry tag, we suggest you call your local plumber to come and inspect all your home's flexi hoses.

If you've recently inspected your home's flexi hoses then well done! We suggest you check your flexi hoses yearly for signs of damage, wear and tear.
Check out this video:
However, in case the pipes have ruptured or a flexi hose is spraying water, you should turn off the main water tap. Run the remaining water until the entire supply runs out. Then, you should seek help from a professional emergency plumber in your area.
4. Burst or Damaged Hot Water Heater
Is your shower or tap releasing water that is too cold or too hot? Do you also experience some strange odour as the water runs or maybe it's a slightly brown colour? Chances are your hot water heater needs to be serviced or replaced.
If your home's hot water heater has burst or exploded right now, please call our team on 0420 102 394 and we'll send our expert emergency plumbers out to your home.

Here are some steps to take now if your hot water heater bursts (or you want to be prepared if it does burst at some stage):
Switch off the hot water tap supply OR the main water supply
If your hot water heater bursts or is leaking considerably, we suggest turning off the main supply to your hot water ASAP. This is to protect your home and belongings from flooding. Flooding can occur very quickly as the water supply is still being pumped into the tank.
Find the isolation tap that supplies water directly to the hot water heater and turn it off. Alternatively, turn off the water main that supplies all water to the property.
Before you turn off the main, if you have time to fill up some drink bottles, kettle, kids drink bottles and a few jugs or pots, to make sure there is some drinking and cooking water for a few hours, that would be highly advisable.
Please note, when you do this, the remaining water in the tank may continue to leak however if you can see the location of the leak, you could use a bucket to collect that water.
Most Australian homes have their water mains in the front yard or alongside their homes. If you're living in a strata building, you are most likely to find it under the bathroom sink or laundry tub (if you're still unable to locate it, your strata or building manager can guide you in finding out where it's located).
Turn off the hot water switch from the electric switchboard
Firstly, do you know whether your hot water is supplied electrically or via gas? Once you've established this the next step after you turn off the isolation tap supplying water to your hot water tank.
Switch off the hot water switch on your electric switchboard. The switchboard will usually state 'Hot Water' 'HWS', 'Water' or something similar. Flick this to the OFF position. This step is very important as it will stop the electricity flow to your hot water tank to prevent any accidents involving electrocution.
Turn off the gas tap supply to the hot water tank
If you've identified that the hot water is instead controlled by the gas tank, switch off the gas tap supply immediately. This will ensure that the remaining water in the tank will not be heated further, and there is no chance of a gas leak occurring. This is a vital step after switching off the water supply and will make the environment as safe as possible for yourself, family members and your professional plumber who is likely on his or her way.
Remove any items of furniture or belongings that may be affected by flooding water
If there is considerably leaking and water pooling, it may be wise to remove any furniture and belongings you can see could be affected by a flood from the water heater. This is the quickest way to ensure that your belongings and furniture are protected and safe.
Try to move the furniture far away, making sure that the exits to the property remain clear and easily accessible so your plumbing crew and your family can easily get in and out of the property.
Our friendly team of experienced and professional plumbers are highly trained in remediating burst hot water heaters and water-damaged areas. We will provide expert knowledge, tips and assistance during the entire process, starting with your phone call to us. A burst hot water tank can occur at completely unexpected times, which is why Proximity Plumbing offers 24/7 emergency plumbing assistance for our Sydney customers every single day of the year (even public holidays).
Please note: If you're in an emergency right now with your hot water heater, please call our team on 0420 102 394 and we can talk you through these steps over the phone as we dispatch our expert team.
5. Water Leaks
Leaks can take place from the pipes that run throughout the home or from the water-specific appliances. Some water leaks might be minor. When you ignore a minor leak, it could lead to expensive repairs.
Are you experiencing a higher-than-normal water bill for your premises? It could be a major indicator that water leakage is taking place at some corner of the house. Some of the other potential signs of water leaks within a home premise are audible water drips, water stains, dampness, unexplained mould and puddles of water here and there. As soon as you come across any of these signs, you can call a professional Sydney plumber.
6. Gas Leaks
A gas leak is a major plumbing emergency.
In case you smell gas, you should immediately inspect all the gas appliances. Also, aim for turning off the gas ring and opening the windows to allow the gas to dissipate. Once you have executed these steps, in case the carbon monoxide levels continue rising and the smell of gas does not go away, you should immediately leave the premises and reach out to an emergency plumber.
I Have A Plumbing Emergency, But It's Midnight?
The thing about plumbing emergencies… they often happen at the most random times. We've had midnight call outs, 2am call outs, Christmas Day call outs, you name it, we've seen it.
If your home experiences a plumbing emergency after hours it's best to call us on 0420 102 394 and we can ask you some key questions to assess the situation and ascertain whether an emergency call out is necessary or it can wait til the next best time. Our time will guide you over the phone to turn off the water main if necessary and other steps you can take whilst our plumbers are on their way to you. If you live in Sydney's Eastern Suburbs we have a 30 minute on-site guarantee for emergencies as all our team live in the east.
This is the part where we need to say as plumbing experts; it's imperative that you do your due diligence as homeowners and please, please (please) schedule your plumbing maintenance seasonally so that little niggling issues can be caught early before they become bigger emergencies. It will give you peace of mind, but it will also *definitely* save you bucks and a headache or two.
I Have A Plumbing Emergency, Will I Be Ripped Off?
There is no denying that an emergency plumbing call out can lead to a significant bill for any homeowner, however, it completely depends on the situation, the level of investigation and the repair that's needed. You can rest assured that our team at Proximity Plumbing will keep you updated with our recommendations at each step of the process. We won't begin any repairs until the homeowner has signed off on the quote. When we quote we give options on how to repair. If you just want an emergency solution or if you want a longer-term fix. For larger, more involved repairs that may take considerable manpower or time, we also offer payment plans.
If you do have a plumbing emergency and are looking for an emergency plumber in Sydney then please contact our team and we will answer your questions over the phone and provide you with the necessary information.
Read this article for more information: $0 Call Out Fee
True plumbing emergencies can be inconvenient and highly stressful. They could also lead to significant damage to your property while rapidly piling on the total costs. At Proximity Plumbing we aim to take away our client's stress by providing fast, real and reliable service and repair. Our 500+ five star reviews speak for themselves, and we truly love serving our local community in times of emergency.
Read more about how to choose an excellent emergency plumber here.
We suggest (if you have the time) to consider hiring a plumber with an impeccable customer service rating, real, honest reviews and one that has years of experience in your local community. In times of stress, it's easy to grab the first name that pops up on google, but we suggest taking a few minutes to really investigate whether they are the best option for you.
Better yet – save our number in your phone as Emergency Plumber and we'll be right there when you need us!