Flushable Wipes Are Causing Widespread Blockages
William Demirdonder
Aug 19, 2020
No comments
15-minute read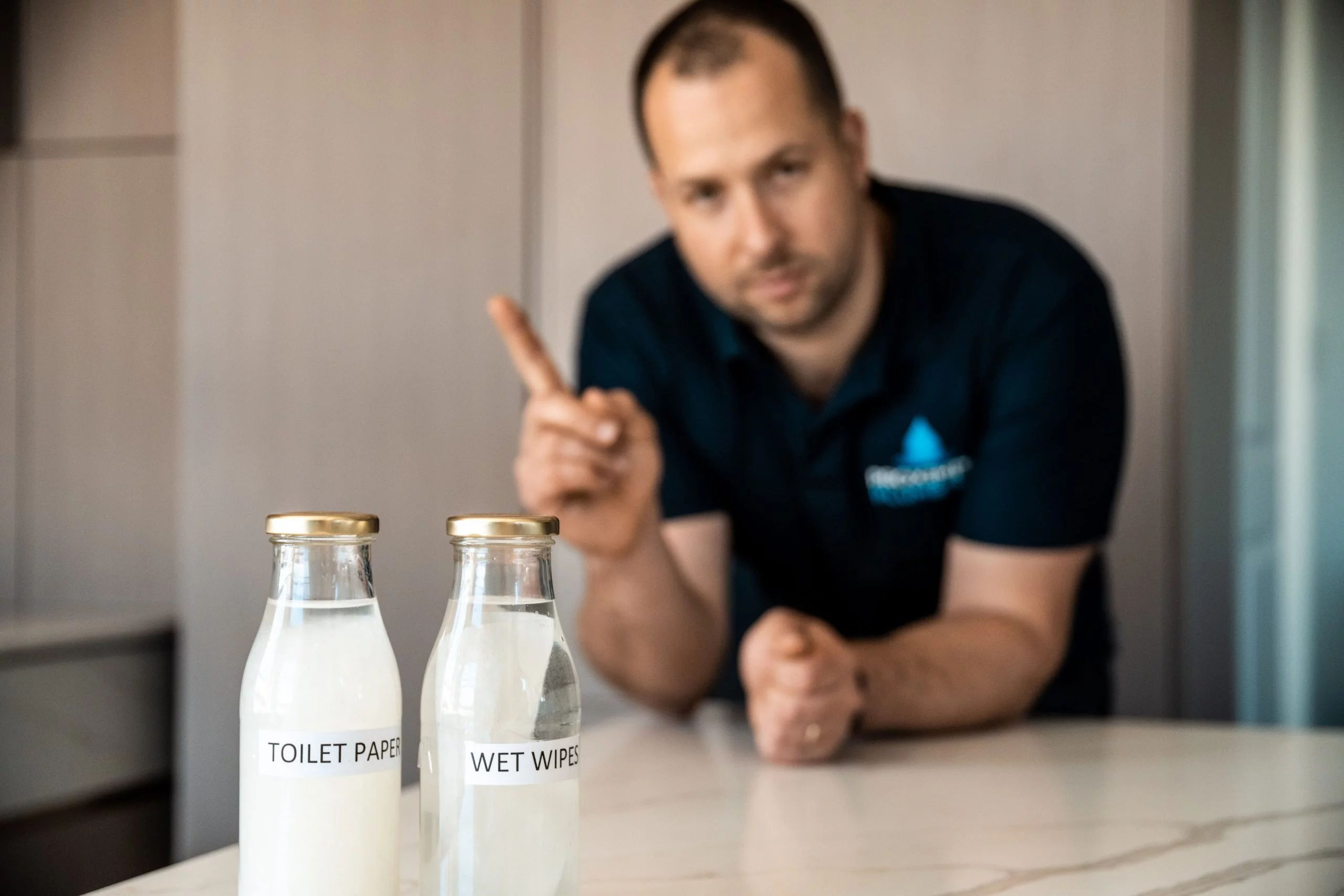 Did you know our team of Sydney Plumbers believe at least 75 per cent of sewer blockages on the field involve wet wipes? This is more apparent with strata blocks as Part of the problem is that, once flushed, wipes are anonymous and the blame for blockages cannot be laid at a specific company's door.
THE QUICK AND DIRTY FACTS
One in four people in Sydney is flushing wet wipes.
Sydney Water has removed more than 1000 tonnes of wet wipe materials from its wastewater system in the past two years. If laid end-to-end, that's enough wet wipes to reach LA and back again.
Wet wipes increase the risk of pipe blockages and overflows to local creeks and rivers.
About 75% of all sewer blockages involve wet wipes.
ARE FLUSHABLE WIPES REALLY SAFE TO FLUSH
Very Simply – No – Flushable Wipes Are Not Safe To Flush.
They're not safe for your home's plumbing system or the environment. Stay away from flushable wipes and your pipes will thank you!
Due to some clever marketing, wet wipes have been renamed as flushable wipes. Although they may be pleasant to use, they are not pleasant on your home's sewer system and our larger, city-wide sewer system.
In fact, flushable wipes have wreaked havoc across sewer systems in cities around the world.
Even products marked "sewer and septic safe". Even products marked "flushable". Even products that claim to "break up" after flushing. They are causing extensive blockages and issues in sewer systems.
So, next time you're at the supermarket and you pick up a packet – put them down and back away! You could be avoiding a messy, unnecessary sewer blockage, or even an emergency plumbing call to us.
At Proximity Plumbing we're here to spread the word – flushable wipes should not be flushed down the toilet.
Not any kind of wet wipe, make up wipe, or baby wipe. The only thing to safely flush is toilet paper. If you are using wipes of any kind, dispose of them in the garbage bin as you would a dirty nappy.
Apart from being dangerous for your home's plumbing system, flushable wipes are NOT environmentally friendly and when they make their way to the ocean (because they do not break down easily) can be disastrous for local fish and marine wildlife.
We shared a video on Instagram which shows how paper vs flushable wipes break down in your pipes. Click here to watch it.
WHAT CAN I SAFELY FLUSH?
Manufacturers provide test results stating that flushable wipes are deemed safe to flush — however, there is evidence that supports the flushing of these wipes can increase the risk of clogged sewer lines and require pumping of septic tanks more often.
"People Often Don't Realise Their Toilet Is Not A Rubbish Bin. Just Because It Goes Around The S Bend Doesn't Mean 'Out Of Sight Out Of Mind'."
It's Best To Play It Safe And Only Flush Human Waste And Toilet Paper. "Other Products Are Not Acceptable Because Of Their High Potential To Cause Blockages, End Up On Our Beaches And Rivers, Create Sewage Overflows, And Increase Costs For Sewage Treatment And Maintenance."
In Other Words, The Only Things Safe To Flush Are The '3 Ps': Poo, Pee And Paper (Toilet Paper, That Is).
Conclusion:
If you are experiencing a blockage or clog in your toilet or septic, please call a professional plumber near you ASAP. Just because someone says something, doesn't always make it true. That same principle applies to your beloved "flushable" bathroom wipes and their deceptive packaging. When your home is experiencing frequent clogs (whether you use wet wipes or not), there is an underlying problem that needs to be addressed. You can call our team today on 0420 102 394 for a free quote. Plus, we guarantee to be on-site within the eastern suburbs in 30 minutes.
Other Useful Information Related To Blocked Drains Sydney